Everyone's favorite pop queen, Queen Beyonce, wowed the audience with her boldest outfit to date as part of her Renaissance Tour in Atlanta at Mercedes-Benz Stadium.
Famous Queen of Pop, Beyonce, once again wowed the audience with her boldest and most daring outfit, leaving fans speechless.
Taking to the stage at Mercedes-Benz Stadium in Atlanta in a daring nude outfit adorned with sparkling jewels, the superstar caused a stir, leaving fans in awe.
The famous singer has been touring since spring and will turn forty-two on September 4, and is in the midst of her round-the-world musical journey, which will end in October.
Performing on stage, the famous singer has shown unprecedented success performing several of her hit classics.
On Saturday night, the superstar took the stage in Atlanta, posting several photos on her Instagram page in her eye-catching outfit.
"The team did an awesome job matching the outfits to her skin tone. You all act like she's naked. She's completely covered up. It's a mesh swimsuit," commented one of the Queen's fans.
"When someone says perfection doesn't exist, they should show Queen Beyonce," wrote one user.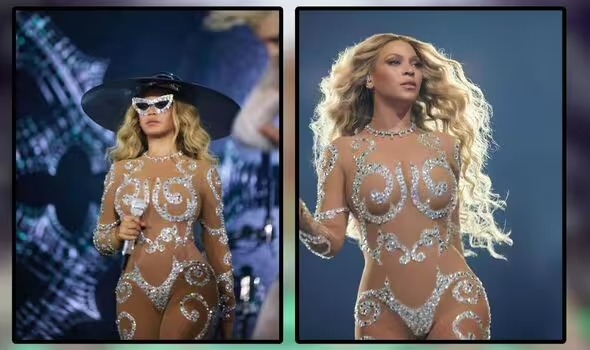 In addition to the fashion queen's jeweled outfit, fans can't get enough of the big black hat pictured in a slideshow on the popular Instagram network.
According to Billboard, Beyoncé's European tour was a resounding success, selling over a million tickets and earning 151.4 million dollars.
Forbes predicts that the Renaissance tour could bring in between $275 million and $2.4 billion in ticket sales alone, given that the median ticket price is $700.
The tour will wrap up on Oct. 1 in Kansas City.