A bear broke into a wedding reception to feast on the delicious desserts served to the event's guests. This fantastic story went viral and was shared all over the Internet.
Every day we go online, we often encounter hilarious incidents from different parts of the world. They often make us smile and wonder how this unusual situation happened. Recently, one such fantastic case from Colorado (USA) appeared on the Internet, which left no one indifferent. One couple decided to tie themselves in marriage in a lavish ceremony in Colorado, which is typical for any city. However, this couple and their wedding became publicized as a bear came to their wedding to savor the delicious desserts served to the guests.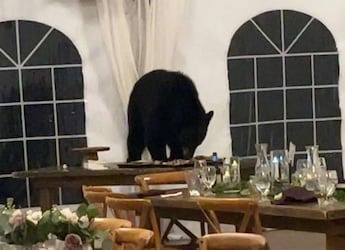 Kaylyn McRossi-Martinez and Brandon Martinez married over the summer, and their family and friends attended their wedding ceremony. During the ceremony, many unexpected events occurred, including an unplanned heavy rain that left all the guests soaked. However, the couple was shocked when they saw that a bear had climbed into the marquee and started eating the desserts. The photos show the furry animal calmly eating the desserts. "And then the bear ate our dessert bar," Kayleen wrote in her Facebook post. Check it out:
It's not often you see when you walk up to a dessert table and see a bear pile on top of it and eat the whole thing," Brandon Martinez said in an interview. It then began eating the desserts for wedding guests, including lemon bars and cannolis. Security later drove the animal away, and luckily no one was hurt. But the story was unforgettable!
What do you think about the funny story of a bear eating desserts at a wedding?