We know Hillary Clinton as a determined, resilient, and tough-minded lady who hardly ever shows her personal feelings on the surface or seems to be at ease in public. She is also very protective of her family. This makes us wonder what Hillary is like when she isn't focused on being in control or on the cameras rolling.
Joe Biden's long hug with Hillary Clinton
When meeting Joe Biden at Scranton airport, Hillary wasn't expecting such a warm welcome as Biden wrapped her in a long 15-second hug. This video went viral instantly as one of Biden's most ridiculous hands-on moments. Biden kept holding Hillary, even as she tapped him on the arm, which was a signal for him to let her go.
Hillary practices avoiding an unwanted Trump hug
While Joe Biden's hug was not what Hillary Clinton would expect in a public setting, she did try her best to laugh it off. But she certainly couldn't see the same happening when meeting Trump, whom she considers a 'corrupt human tornado.' In this video, two days before the first live presidential election debate between Clinton and Trump, Hillary is practicing their initial greeting to make sure she dodges any of Trump's attempts to hug her. This is rare behind-the-scenes footage of Hillary's debate prep session and a favorite moment of everyone helping her to become a hug-avoiding pro.
Hillary on vacation
This video from as far back as 1997, when Hillary, Bill, and Chelsea took a sail around the Virgin Islands, shows them enjoying a quiet vacation. But venturing beyond the secluded villa with a private Caribbean beach means being quickly noticed and recognized by the locals, so the Clintons only have to wave back awkwardly.
Hillary and Bill dance on the beach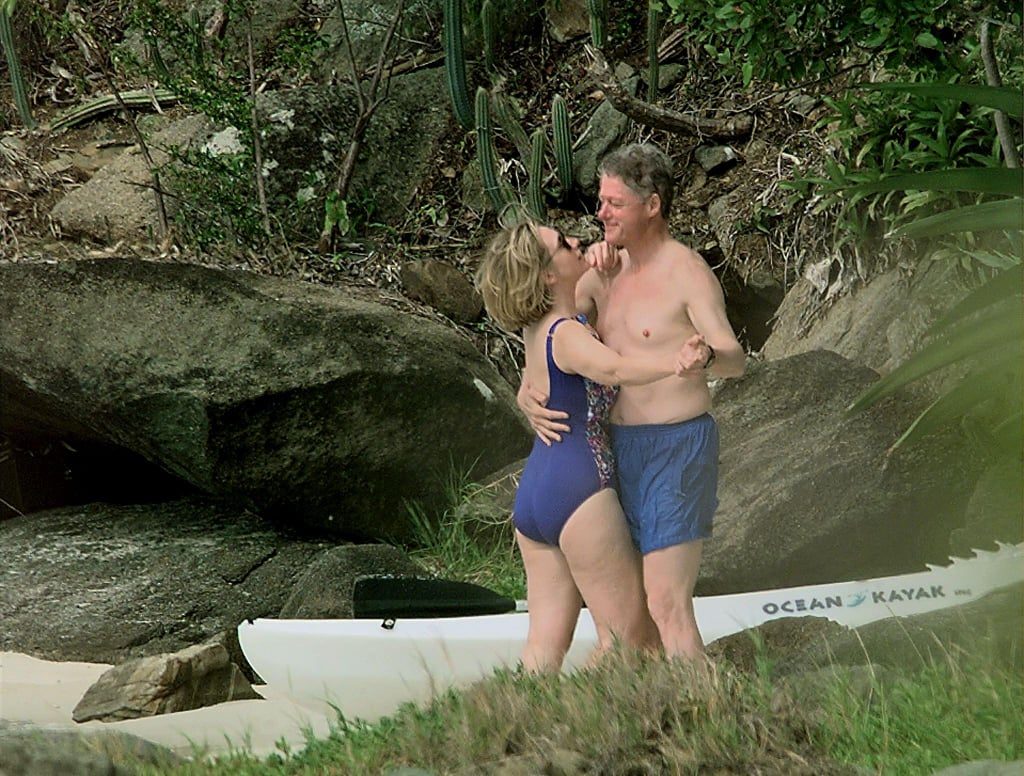 What became an iconic Clinton couple photo is viewed with the same skepticism as their entire relationship: people think it is more a "professional arrangement" than anything sincere and meaningful. Some believe this was the only real, true moment they've seen in the pictures of the former president and first lady.
But still, in this photo, the couple looks very happy dancing on the beach after taking a swim, whether aware of the cameras pointed their way or not.
The Fall that made international headlines
While not the only time when Hillary Clinton tripped or fell in public, no other moment had received as much attention from the public and the press as this video. When leaving the 9/11 memorial in Manhattan, the presidential candidate Hillary Clinton fell and required help getting into the car, which immediately raised health concerns. She had to leave the 9/11 ceremony early, feeling overheated and appearing unsteady, and a few days later, she was diagnosed with pneumonia.